Last week, we provided an update on the global economy and what to watch for as potential signs of improvement.  Now, we are going to discuss signs that could tell us whether the global equity market will reach a bottom in the near term.
One of the indicators is a Bottom Watch report by Ned Davis Research.  The Bottom Watch report is a set of high and low extremes focused on volatility, sentiment, market breadth, and momentum.  Since 2010, there have been three periods when the MSCI All Country World Index (ACWI) has declined by 20%.  The most recent occurrence was from the January 2018 high to the December 2018 low.  In the prior two periods, more than half of the Bottom Watch indicators eventually turn positive and the ACWI returns 20% over the next 9-12 months.  Currently, 0% of the Bottom Watch reports are positive.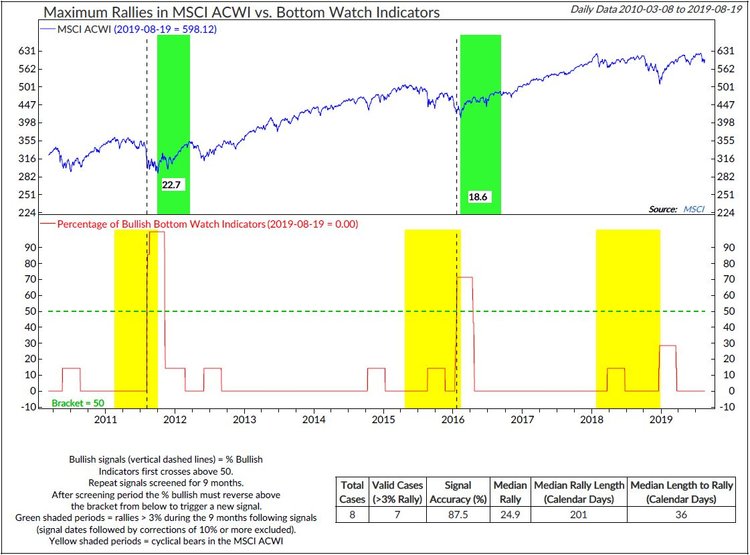 We also track indicators to determine if the equity market appears to be set up for a move to the upside using the Ned Davis Research Rally Watch report.  This report includes trend data over short-term (under 50 days), intermediate (50 days), longer term (200 days) periods and sentiment.  Currently, only 2 of the 16 indicators are positive.  This has historically been associated with weaker return outcomes over the next 12 months.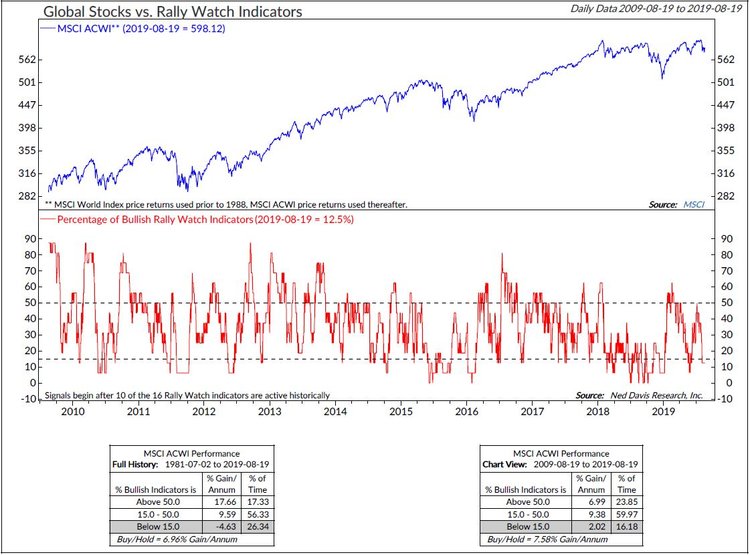 The final set of indicators that we track is the Ned Davis Research Bear Watch report.  Currently, only 2 of the 10 indicators are currently bearish.  However, several of the underlying indicators are getting closer to their bearish signal, making this indicator worth following closely.  The ACWI has tended to have the worst performance after more than 40% of the Bear Watch indicators turn negative.  The Bear Watch report also tends to lead the Bottom Watch indicators, meaning that the Bear Watch report has a majority of the indicators at negative levels before the Bottom Watch reaches the same point.
Our main takeaway from these indicators is the global equity market could experience more weakness before making a bottom.  The economic data that we reviewed last week seems to align with that sentiment.  Regardless of when the market will reach bottom, in general investors have benefited from favoring bonds and gold over the S&P 500 within the past year.  We believe this trend will likely to continue until the economic data improves or more of the trend data turns positive.
Rank Dawson, CFA
Vice President, Investment Strategy
Boyd Watterson Asset Management, LLC
The views expressed herein are presented for informational purposes only and are not intended as a recommendation to invest in any particular asset class or security or as a promise of future performance.  The information, opinions, and views contained herein are current only as of the date hereof and are subject to change at any time without prior notice.